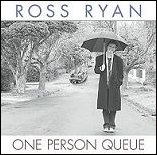 When Ross Ryan sings about putting a bullet through the radio and trashing his TV he's only half kidding.
Country music may be big in his hometown of Fort Leavenworth, Kansas, but it doesn't win much airplay in his digs in leafy Glen Iris. The man who rode local airwaves in 1974 on a flying steed named Pegasus has not made huge bucks from that stable in the sky for a long time. But Ryan, 53, has not been idle - his multi media career kept the dingoes from his door as he produced Gippsland gauchos Jo Jo Leslie and Dale Juner at his flood belt studio.
Leslie reciprocates by singing on Ryan's fifth album - his first since 1978. Although the radio friendly peak of the disc is a rollicking Shania Twain spoof 'Look Out For The Ricochet' this is not just a country disc. But there's suffice decent country songs such as 'Not Our Time' and 'The Only Show In Town', featuring Ken Stephenson on pedal steel and dobro and Perth refugee Andrew Clermont on violin, mandolin and 12 string guitar, to give it grit.

And, unlike some better-known artists for whom he has penned songs, he still has the vocal timbre to ensure he doesn't fall between the cracks.
There's even a dab of parodic gospel on finale 'Walk On Water' - not the hidden tracks.
So what about the rest of the disc?

Well, entrée 'Only My Breathing' sets a whimsical mood that enables Ryan to stretch out on hook, heavy single 'Cool River', with Leslie among harmonisers, and 'Chase The Ghosts Away' - both adorned by Clermont. Ryan injects ruptured romance requiems 'Don't Be Unkind' and 'Lovers Turned To Thieves' with enough vitriol to ensure they sneak under the radio radar as MOR missiles of mass distraction.
Whether Mark Holden and Don Burke and the O.K. Chorale on 'Spirit Of The Rain' open a TV door is in the groin of the Gods.
But it appears the 26-year drought between albums has not dimmed passion or talent of a tireless thespian who struts his stuff at Albert Park Yacht Club on February 14.
DAVID DAWSON