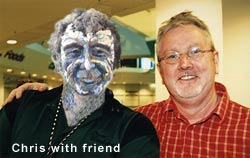 Welcome back my friends to the only show in town! Well not quite!
But there is good news for all those folks whose teenage years were spent up holed up in their bedrooms enjoying the musical adventures of a slightly younger Ross Ryan. Songs of heartfelt, humorous and genuine 'love vrs angst' scattered throughout the albums, A Poem You Can Keep or My Names Means Horse, to mention but two of that EMI - foursome. Ross – of course – is back! With a brand spanking new record (10 years in the making, mind you), the self depreciatingly titled - One Person Queue!
Long gone are those spotted days of youth when we religiously lit up the incense (or whatever), strapped on the headphones, and tucked our minds into those massive double gatefold record sleeves. All the while searching deeply for hidden and secret messages that the music, the pictures and the words may evoke!
Today the incense still provides psychic comfort for many of us. And now we can soak up the glorious quality of digital sound, while squinting our way through the tiny CD inserts, as we search for those special soul touching moments that the well-versed music aficionado desires!
One Person Queue is an unashamedly sparkling return to the threshold Ross abandoned way too many years ago. Like fellow 70's singer-songwriter and part time icon, Glenn Cardier, whose wonderfully rounded and grounded record, Rattle The Cage, hit the shelves this year, 2003 finds Ross with two feet firmly planted in the garden of musical earthly delights.
One Person Queue opens up with a gentle knocking (hello, anybody there? this is Ross Ryan!), before gliding into a wonderful paean to new-found love, Only My Breathing. Immediately the warmth of Ross's voice, weaving a slightly melancholic thread through a tapestry of harp and saxophone, guides the listener into this brave new world of his mellowing soul. Welcome home Ross!
The sparkling Cool River is next. An obvious choice for a single – if there was an obvious radio station to listen to these days. A crystal clear stream of guitars, mandolin and fiddle together with the bubbling harmonies of Jojo Leslie, allow Ross to saunter his way through this effervescently melodious affair, with more joy and passion than the lyrics themselves might have suggested.
Next up is Don't Be Unkind, a smooth and slightly smoky nightclub setting for Ross to indulge in a touch of tuxedo rock'n'roll, complete with the strip-girly chorus and the seasoned assistance of that rather mellow fellow Mark Holden. This latter day idol guests on dreamy vocals as the slightly smug nightclub singer, who casts his sarcasm toward the antagonist in this sad, sad tale of careless infidelity. Complete with sultry clarinet and more vibes than a fun loving criminal can muster!
The tempo picks up with Lovers Turn To Thieves, a somewhat brash rock'n'rolling mix of electric guitar, Hammond organ, handclaps and rousing choruses, as Ross vents his spleen about the downward spiral often encountered through the changing faces of tumultuous relationships.
With Spirit Of The Rain, Ross turns his attention to broader social issues. Spirit Of The Rain is a dedicated and heartfelt ode to the oft forgotten and forlorn plight of our Aboriginal brothers and sisters. Ross does not make any attempt to preach, but rather documents his thoughts and feelings with care and compassion. Enhanced by dancing rhythms, Spanish guitar and a spiritually uplifting choir, Ross reminds us of our duties, and ultimately our privilege, to honour our fellow humankind. One person's 'I am sorry' anthem!
Chase The Ghosts Away retains a theme of spirituality, but this time directed more toward oneself. This is Ross Ryan returning to full glory, the crowning moment of One Person Queue. Ross turns his thoughts ever inward to discover and define his own soul. In the process he scours his way through reflections of the past and wasted moments, recalling common memories and shared fears and tears. Tears of both joy and laughter, as he searches for that safe and believing future. This is familiar territory for all those folks with their own touch of melancholy and on their own search for a brighter light. Chase The Ghosts Away is a beautifully haunting melody floating on acoustic guitar, violin, banjo and streams of Celtic ambience, allowing Ross to reach out and connect deeply with healing hearts.
Next up is Look Out For The Ricochet and serves up a small does of comic relief, in a full blown honky tonkin' and shuffling tribute to his greatest musical love, Country Music. Country, as in Patsy Cline, Hank Williams, Buck Owens and Johnny Cash - the real stuff! In the process he gets a chance to have a dig at the rotting state of radio, television and the minds of those in control. All in the name of good fun of course?
With country music firmly in mind, Not Our Time follows and this song is a saddening waltz across nexus. Those fleeting moments that spark with passion, but are soon left to pay a crashing debt to normality. Ross is definitely at home on the range here, among the accordion and violin, as memories of Country Christine come flooding back. The heartstrings are pulled even harder by some wonderful 'bowed bass' and tearful mandolin. A song of simple beauty and timelessness!
The Only Show In Town appears to be dedicated to those in search of those magic moments only music can bring. A song to the true believers. Stand up now and be counted, for Ross is definitely one of us! A slightly up-tempo waltz this time, with tasteful strokes of electric/slide guitar and dobro dancing cheek to cheek with some damn fine harp from Ross himself.
Jojo Leslie once again provides angelic harmonies, as Ross encourages us to search for honesty and truth in a world surrounded by shadows and charades. Having witnessed a recent performance of Ross, the magic was still very evident – and for those attending it really was a feeling of being at 'the only show in town'.

And, in the end… Walk On Water is the 'gospel according to Ross' as he rises up to the pulpit and blasts out this fearful tirade on the sad state of world spirituality today. Versed with a mix of damning accuracy and unadulterated puns, it is an energetic and humorous plea for a return to some sort of soulful sanity, and preferably without all that miracle stuff. Organs blast, choirs bellow, pianos pounce and tambourines shake, rattle and roll throughout this frolicking finale! A wonderfully fine way to bring down the curtain on this most enjoyable musical journey.
But wait, there's more! After a few seconds of silence, a sort of 'Ross Sings Nilsson' ditty reminds us that Ross's humour is still an ever present balancing act, before the album truly closes with a breezy and saxy instrumental outro.
One Person Queue is a full flavoured mix of lovingly crafted and multi-textured songs. It is a record brimming with melodies and memories, touches of rock'n'roll and a strong leaning toward the right side of country. There are also brushstrokes throughout from a much broader musical palette to add lightness and colour. And then there is also the fun and humour that one would expect from any Ross Ryan creation.
This all adds up to a refreshingly honest and enjoyable record, expertly recorded and produced by Ross and James Feldman, at his own very GI Recorders. One only hopes that there are many, many more persons lining up in the queue to enjoy Ross E Ryan's latest gem. And that we do not have to wait another 10 years for a follow up. The only thing lacking was the triple gatefold, embossed record sleeve with poster foldout lyric booklet and a postcard from Easter Islands! Maybe next time?
Chris Swann